Finest Commercial Pool Table Moving Services In San Jose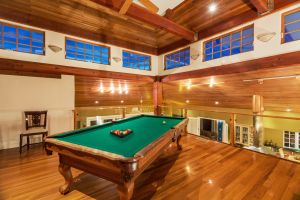 While the process of moving a single pool table to a new home can be tricky, the process of moving multiple tables to a different commercial property can be another monster altogether. Moving multiple pool tables to a new business location is a labor intensive process that most companies just aren't equipped to handle. Add to that the fact that each table needs to be properly disassembled and stored for the move before being properly reassembled, balanced, and leveled after it reaches its destination and it becomes easy to see why this kind of job is something that is best left to the professionals. Your pool tables are a major investment for your business, and it pays to make sure they they have the proper care they need during the moving process to make it safely to your new business location. Here at The Pool Table Pros, our team of San Jose pool table professionals have the skill and experience to tackle your commercial pool table moving project, no matter how big or small the project might be, and ensure that your precious cargo arrives at its new home undamaged and ready to play.
Here at The Pool Table Pros, we have been providing local business owners with the quality commercial pool table moving services they need for over ten years, and in that time, we have demonstrated again and again why we are the San Jose pool table professionals of choice for local home and business owners alike. If you have any questions about our quality commercial pool table moving services, or if you would like to schedule an appointment for consultation with one of our moving specialists, give us a call today. Our team of experts are always standing by and would be happy to assist you in any way we can.
Commercial Pool Table Moving Pros
Most commercial pool table moving projects involve moving more than just one table to a new location, and the difficulty of that task can vary greatly depending on just how many tables need to be moved. Here at The Pool Table Pros, we have the equipment and experience necessary to get your tables to your new business location both efficiently and safely. We will ensure that your tables are properly broken down and stored for transport to ensure they don't suffer any damage during the move, and once they arrive at the new location, we will reassemble and ensure every table is properly balanced and leveled once more to be ready for play.
If you are in need of Commercial Pool Table Moving, then please call our San Jose Pool Table Professionals at 408-499-6300 or complete our online request form.