Dependable Pool Table Relocation Services In San Jose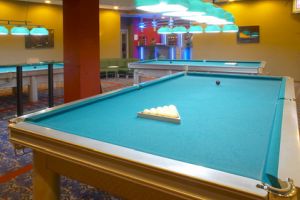 Your pool table is a big investment, and when you are looking at moving, either to a new home or a new business location, you want to have peace of mind in knowing that your pool table is going to be able to safely make the trip with you. It is very easy to damage a pool table during the moving process, especially if you don't know what you're doing, or you entrust the job to a team of movers who don't know how to do the job correctly. Here at The Pool Table Pros, our team of pool table professionals can help you with all of your pool table relocation needs. Our team of experts are highly experienced in this line of work, and we know how best to break down your table, safely transport it to your new location, and reassemble so you can continue to enjoy it. Our team of professionals will take special care to ensure your table suffers absolutely no damage in the process, and everything is reassembled correctly to ensure it plays accurately after the move. When it comes time to pick up and relocate your pool table, you should never settle for service that is anything less than the best, and when you make the call to our team of professionals, you never will.
Our team of San Jose pool table professionals have been helping home and business owners with all of their pool table service needs for over ten years, and during that time, we have established ourselves as the premier name for quality in the field. Our goal is, first and foremost, to ensure that you have the service you need to keep your table in the best condition possible at all times, and we work hard to deliver on that promise. If you have any questions about our full line of high quality pool table services, or if you would like to schedule an appointment for consultation with one of our specialists, give us a call today. Our team of experts are always standing by and would be more than happy to assist you in any way we can.
The Pool Table Relocation Process
While it can be easy to think that the process of relocating your pool table is a question more of lifting capacity than anything else, you might be surprised at how much work goes into moving a table without actually damaging it. During the relocation process, the first thing our team of pool table professionals will do is disassemble your table, carefully removing the rails, the felt, and the slate, and ensuring that each part is safely stored and transported to your new location. Once arriving at your new home or business location, our team of experts will find the right position for your table, reassemble everything, ensure the frame is properly leveled, re-stretch or apply new felt, and ensure the rails are aligned properly. By the time our team of professionals are finished, you would swear your table had just appeared in its new location, and have never been disassembled at all.
If you are looking for safe and efficient Pool Table Relocation services in San Jose or nearby, then please call 408-499-6300 or complete our online request form.