5 Mistakes To Avoid With Your New Pool Table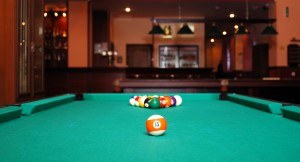 Playing pool anytime you want is fantastic, so everyone's excited and dying to give a try once the new pool table gets set up in your San Jose home.
Not to bust up the fun and excitement but before you dig in and grab a cue or let the kids roll balls around, our San Jose pool table company wants to draw your attention to the common mistakes people make with their new pool table.
After all, you don't want to deal with pool table services right after you just bought it! Fortunately, your family rule meeting can go quickly because there are just a few things to get straight.
To help you avoid the need for Pool Table Services, here are 5 mistakes to avoid with your new pool table.
Letting Pets and Children Get on the Pool Table
Everyone's excited sure, and this is your San Jose family we're talking about but a few family rules won't hurt anyone.
The first mistake you can make is to let the pets or kids get on the pool table. This includes leaning against it with sticky fingers or toys, letting the dog raise up and put their front paws on it, setting the kitten on top of it, or letting the baby crawl around on top.
Setting Drinks or Food on the Pool Table
The second mistake to avoid is to let people set drinks or food on top of the pool table. Sure, a soda or beer can is mostly closed up and you're an adult, but accidents do happen. When they do, it could be the felt color or even the ball return mechanism that gets damaged.
Just ask yourself, is the Pool Table Services repair expense really worth the risk?
Cleaning the Pool Table Felt the Wrong Way
While different ways to clean a pool table may get the grime and stains out, it's all too easy to cause damage to the pool table felt. And you know what that means – Pool Table Refelting.
Don't use anything but a brush to begin with, and don't use circular strokes. Make straight strokes. Vacuum with light suction and an upholstery tool.
Don't let spilled liquids or food solids sit on the felt. Use a dampened cloth and blot. Don't rub the stain.
For stains, don't use anything other than a product that is specifically made to clean pool table stains.
Using Bad Pool Cues
Even the best billiard's player can slip and gouge the felt when taking a shot with a bad pool cue. It's best to purchase new pool cues rather than scoring a deal at the local flea market or a garage sale.
Then, always be sure to test it for warping by gently laying the cue flat down on the table and getting it to roll freely a few times in order to see if it bounces as it turns.
Using The Pool Table For Other Things
Another mistake to avoid is using the pool table for other things. Even though Thanksgiving has arrived or you're trying to piece together a sewing project, don't be tempted by the large surface area.
If You Can't Avoid Using The Pool Table For Other Things, Don't Forget To Protect It First
If you absolutely must use your pool table for other things, avoid the mistake of not protecting it or you'll be calling that professional Pool Table Services Company again.
To protect your beautiful new pool table, including the felt and all the other parts, lay a large waterproof covering over it first. Be sure the plastic is large enough to protect the other parts, like the return ball area and all the pockets and sides.
Then, you'll want to place a hard board on top which covers the entire top surface area. With a few rules in place, and any others you can think of, you should be able to greatly limit any repair bills down the line!
If you need professional pool table services, then please call our reliable San Jose pool table professionals at 408-499-6300 or complete our online request form.