Your Trusted Pool Table Refelting And Installation Experts in Fremont, CA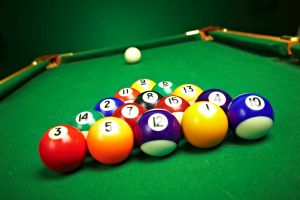 Whether you made the investment in a new pool table because you are trying to focus your efforts and get serious about playing, or you just enjoy the atmosphere it brings to a room while playing a game here and there with your family or friends, a pool table is a serious investment, and as such, you want to make sure that you have the name of someone you can trust in the event that something goes wrong with your table. Here at The Pool Table Pros, our team of pool table professionals have been helping Fremont home and business owners with all of their Fremont pool table service needs for over ten years, and we have no intention of slowing down anytime soon. Whether your table is in need of new felt, new pool table accessories, or you are looking for repairs, our team of experienced professionals are ready to provide you with the service you need. When it comes to your pool table, you should never have to settle for anything less than the absolute best in service, and when you make the call to our team of experts, you never will.
Here at The Pool Table Pros, we understand what a significant investment your pool table is, and we have made it our mission to ensure you have access to the quality care you need to keep your table looking and performing its best for as long as you own it. If you play on your table with any amount of frequency, your table is likely going to see some wear and tear, and not only can this make your table look worn out over time, but it can also affect the accuracy of your games. Our team of Fremont pool table professionals offer a wide array of services that are designed to help ensure every game you play is as fun and accurate as possible. If you have any questions about our full line of high quality services, or if you would like to schedule an appointment for consultation with one of our specialists, give us a call today. Our team of experts are always standing by and would be more than happy to assist you in any way we can.
Pool Table Repairs In Fremont
As you own your pool table, there are going to be issues that can spring up from time to time, whether your felt gets torn in areas, your bumpers go bad, or you just decide that it's time to update your older pockets. No matter what the issue might be, you want to make sure that your repairs are always carried out by a team of Fremont pool table professionals you can trust like the ones right here at The Pool Table Pros. Our team of experts will work hard to quickly and accurately diagnose the issues with your table and get right to work in properly resolving them so you can get back to enjoying your game.
If you are looking for a local pool table expert in Fremont, then please call 408-499-6300 or complete our online request form.