Durable And Aesthetic San Jose Pocket Replacement Services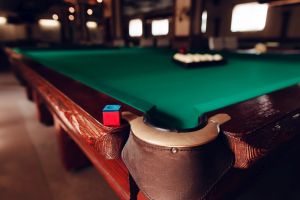 If you make use of your pool table with any amount of regularity, chances are that your table sees its fair share of wear and tear. Experiencing a bit of wear on your pool table is inevitable if you plan on using it at all, and one of the areas of your table that are most susceptible to that wear are your pockets. Your pockets and the areas around them are constantly being bombarded during play, and as the corners of your table, they are usually subjected to a bit of wear that isn't related to the game on a fairly frequent basis as people bump into them, set things down on them, or just use them to lean while spectating. When your pool table's pockets are no longer looking their best, our team of pool table professionals here at The Pool Table Pros can help you with all of your pocket replacement needs in order to keep your table looking its best. Whether your old pockets are damaged, getting older, or you are just looking to update your table with a bit of a different style, our San Jose pool table professionals would be happy to assist you.
Here at The Pool Table Pros, each and every one of our pool table professionals are highly trained, skilled, and experienced in the field, and we are fully dedicated to ensuring you receive the quality service you need to keep your table looking and performing its best over the course of its life. Our team of professionals will work with you directly to ensure you get exactly what you're looking for with your new pocket replacements and make sure you get a quality installation that won't inhibit your ability to enjoy your games. If you have any questions about our full line of high quality pool table services, or if you would like to schedule an appointment for consultation with one of our specialists, give us a call today. Our team of experts are always standing by and would be more than happy to assist you in any way we can.
Update Your Table's Style With Pocket Replacements
If you have owned your pool table for any length of time, there is a good chance that you have either gotten a little bored with its style, or it just doesn't fit with the overall design of your home as that design has changed over the years. When it comes to updating the style of your pool table, replacing your old pockets can have a dramatic effect. Here at The Pool Table Pros, our team of pool table professionals can guide you through the wide range of different options we have available for you to choose from and help you find the option that is going to provide you with exactly the kind of style you've been looking for.
When you are in need of pocket replacements for your San Jose pool table, please call 408-499-6300 or complete our online request form.