Pool Table Installation & More For Salinas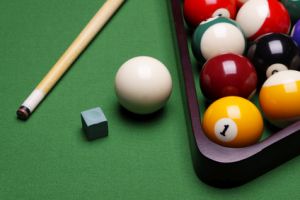 If you have a pool table in your Salinas home or place of business, it's important to have a pool table professional around to help you with maintenance, repairs, and more. Let the team you trust with your pool table needs be The Pool Table Pros! We offer all kinds of services for pool tables here in Salinas, from pocket replacement to a variety of accessories. We can even help you disassemble your pool table when you're relocating it to a different spot.
On the other hand, if you don't have a pool table but would like to get one, we can help with that, too! We offer a wide range of pool tables for you to choose from so you can find the one that fits you and your space. As pool table professionals here in Salinas, we're happy to be the team that helps home and business owners get the high-quality pool tables they want the most. Call us today for more information about our pool table selection or any of the services we offer.
Professional Pool Table Refelting In Salinas
Pool table refelting is an essential service for anyone in Salinas who owns a pool table. Pool tables are large and sturdy, but that doesn't mean their surfaces aren't delicate! The felt on the surface of your pool table is possibly the most important aspect of it because it makes playing the game possible. That means taking care of the felt should be a top priority. Luckily, The Pool Table Pros are here to provide you with the pool table refelting you need to keep your pool table in great shape.
Whether your felt is damaged and discolored or you just want a new look for your pool table, we can provide you with refelting and new felt services. With over ten years of experience providing this service to the area, you can feel confident knowing that your pool table is in the hands of true pros– The Pool Table Pros!
Salinas Calls Us For Pool Table Installation
So you finally found the perfect pool table for your home or business– but now it's time to put it together and install it properly. You could try to do it yourself, but without the proper experience or tools, it might be tough. Not to mention your table needs to be balanced and leveled so your games can be accurate. For the best pool table installation in Salinas, reach out to The Pool Table Pros. We will deliver and assemble your pool table promptly and efficiently, working quickly but thoroughly so you can start enjoying your pool table as soon as we leave. We can't wait to show you what makes us the area's favorite when it comes to pool table installation.
If you are looking for an experienced pool table company in Salinas, please call 408-499-6300 or complete our online request form.